How to play the game "Bird Memory Game"?
Tweet tweet! Hi girls, it's Lee here. A little bird told me, Lilou and Lea that you might have the skills to help us in this free animal memory game for girls. You see, we've been hanging out at the local animal centre to earn some extra pocket money. We thought it would be boring, but it's so much fun! We have a little problem though. This morning, we were put in charge of the bird aviary, and, well, the birds got out! We need to get them all back in the cage before our boss comes and fires us! Read more
It was all Lilou's fault, she left the cage door open! Anyway, no time for arguments. Can you help us find the matching pairs of birds before the time runs out? There are so many different kinds of birds in this girls' game, so you'll really have to put your memory to the test. You'll see parrots, emus, eagles, woodpeckers, hummingbirds, robins and more! The tweeting is getting so loud that me in the girls are in a bit of a flutter, so we're kind of relying on you! Remember, stay calm and don't get your feathers in a twist!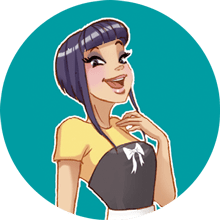 Bird Memory Game is one of my favorites! We clearly have awesome taste! Come and play more of my fave memory games!