How to play the game "Bike Racing for Toys Game"?
Have you ever wondered what your toys get up to while you're at school? The teddy bear in this girls' game gets up to all sorts of mischief while his little girl is away, and in this girls' game he's come up with a really fun idea: he's going to have a motorcycle race around the playroom! He's built obstacles and jumps with building blocks, skateboards and all sorts of toys, and now it's up to you to help him race around the room in this bike game for girls! Read more
If you've played bike games and racing games on MyGames4Girls.com, you'll have no problem helping Teddy zoom around the bedroom on his toy bike. Just use the arrows on your keyboard to go ahead, speed up, lead forward and back. Don't go too fast or let the motor bike tip forward, or poor Teddy will crash and it'll be game over in this girls' racing game! Have fun, and make sure you check out the rest of the girls' games for lots more fun!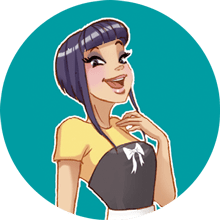 Bike Racing for Toys is one of my favorites! We clearly have awesome taste! Come and play more of my fave racing games!