How to play the game "Babysitting Dress Up Game "?
Do you love babies? Today you'll be meeting our friend Katie, who is working as a babysitter for her twin cousins, Billy and Joel. These babies are very cute but also very messy; today they've had great fun throwing spaghetti-os at each other, and at Katie! Her outfit is ruined! What's worse, her boyfriend Danny is coming to pick her up after work to take her to the movies.... she can't possibly go on a date with spaghetti sauce all over her! We know you're a dress up games expert, so can you help Katie find an emergency outfit before her boyfriend arrives? Read more
Should Katie wear a red spotted dress, pink jeans with a hoodie, a smart shirt and denim skirt, or something totally different? Like all of our dress up games, it's totally up to you! Just make sure she looks super cute (and clean!) before Danny arrives to take her out. Have fun with this free babysitter dress up game, and make sure you check out the rest of the girls' games on the site for more fashion fun!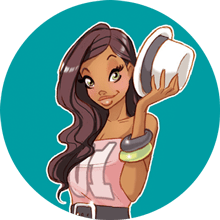 You're clearly loving Babysitting Dress Up Game - you should check out my pick of the best dress up games!