How to play the game "Asteroids Game"?
All her life, Natalia has been obsessed with astronomy and astronauts. She never played with dolls, teddy bears or other traditional toys...she was only ever interested in space figures and alien dolls! As she got older she spent many years studying and reading lots of books on physics and space. Now, she's finally reached the big time...she is an astronaut in this girls' free space game! Read more
Words can't explain how happy Natalia feels, but she also has a lot of responsibility! She really needs your help to help take some of the pressure off in this free girls' game. Your first mission is to get rid of the terrible asteroids that are threatening to collide with Earth in this girls' shooting game. Help Natalie shoot them all away by pressing the space bar, but beware! An enemy ship! Natalia suspects that the attack of these asteroids may not be accidental...some aliens want to destroy Earth, and Natalia's ship! Wow, this is an exciting shooting game for girls! Can you beat the aliens? Would you love to go on a space adventure? Good luck!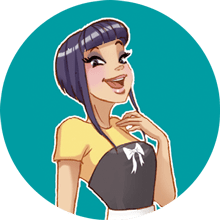 Asteroids is one of my favorites! We clearly have awesome taste! Come and play more of my fave shooting games!