How to play the game "American Idol Final Game"?
Tonight is the big night. After weeks of competition in American Idol, Tara is in the final! She has to compete with two other singers tonight and really impress the judges in order to win. If she does win, she will become an international pop star and get to record her very own album! There are thousands of people in the audience and millions watching live at home, not to mention the judges! Phew...she's so nervous! Your task in this free girls' make up game is to give Tara a look that will captivate everyone. That means going backstage at American Idol, wow! Read more
She's not had much sleep due to being so nervous, so we'll be honest, Tara is a bit of a mess. A lot of work is needed here, in fact, we're gonna have to give her a total makeover! It's a big mission in this free girls' make up game, so let's get to work! You'll need to cleanse, exfoliate, apply a face mask, pluck the eyebrows and moisturise. Moving onto the make up, you'll find eye shadows, foundation, lipstick and blush. One of the best ways to make a statement is through your hair, so Tara needs a style that will impress. Once you're done, choose a pretty dress to make Tara look like a superstar. Now it's time to watch the show! Keep your fingers crossed for Tara!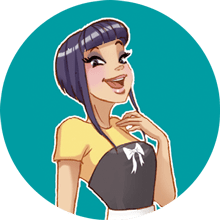 American Idol Final is one of my favorites! We clearly have awesome taste! Come and play more of my fave makeover games!