How to play the game "A Bit teddy adventure Game"?
Mimi is a little girl who has been asked by her father if she can go to fetch water. Mimi puts her rabbit teddy down on the ground so that she can fill the bucket right to the top but a nasty eagle flies at her. The eagle takes a little rabbit in its nest. To her teddy back, Mimi will have to get through a big adventure with your help in this adventure game for girls. Indeed, you will have access to various features by searching the scene, using your mouse, a way forward in this adventure game just for girls. Read more
For example, to start the girls game, you have to climb on the bucket Mimi to go over the fence of her garden. Then find tricks to get past the elves of the forest that will make you turn into a donkey. Do not hesitate to move around the scene of this adventure game to find solutions and to move forward. You will thus help Mimi to return to her sweet little rabbit.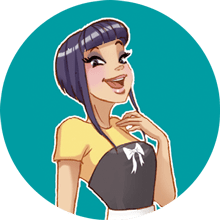 A Bit teddy adventure is one of my favorites! We clearly have awesome taste! Come and play more of my fave adventure games!