How to play the game "Vampire Fashion Designer Game"?
Think you have good style and know all about the latest fashion? Want to get better at having a good eye for trends and knowing which looks to perfect and copy? In this fashion designer game for girls, you have to concentrate with all your heart and try not to do anything wrong. Make sure you choose the right hair and outfits for this scary vampire without making any mistakes. After all, nobody wants to make a vampire angry… Read more
You must pay close attention when styling this vampire girls' hair too. It's awful to end up with a haircut that you hate! Pay close attention to the bangs, length, color and different layers of the hair so that your client is satisfied. Can you pass this test? Also see if you can pick the perfect dress and shoes in this vampire makeover game. If you do it wrong, start again! There are no second chances in this free girls' game. Also, don't forget to share your hair horror stories in the comments. Have you ever left the hair salon with a hairdo that you hated?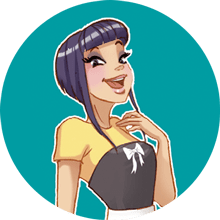 Vampire Fashion Designer is one of my favorites! We clearly have awesome taste! Come and play more of my fave dress up games!