How to play the game "Valentine's Day Kisses Game"?
Ahh, young love! With Valentines' Day coming up, no doubt you can see new couples and love games popping up all around you. In this special Valentines kiss game, you'll meet Judy and Pierre, a loved-up young couple who have decided to spend February 14th skateboarding and rollerblading at their favorite skate park. Seeing as it's Valentine's Day, they obviously want to share a few kisses but unfortunately Pierre's annoying friends keep skating past, making fun of them and even taking photos of the cute couple! Judy would be so embarrassed if her parents saw pictures of her kissing a boy, so let's make sure Pierre's friends can't take any sneaky snaps in this kiss game. Read more
It's never easy to keep an eye on what's going on around you when you're enjoying a romantic kiss with your boyfriend. Pierre and Judy need your help in this kiss game for girls so they can really enjoy their Valentine's Day date. Click on the young couple to let them kiss, but let go if you see any of Pierre's friends skating past. Let us know in the forums if you get any cards from secret admirers on February 14th!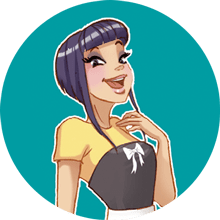 Valentine's Day Kisses is one of my favorites! We clearly have awesome taste! Come and play more of my fave valentine games!