How to play the game "Tara Duncan Dragons Game"?
Tara duncan lives on Otherland, but her people are friends with the dragons who live on the other planet of Dranvouglispenchir. Girls games like this one are tricky to play, because these dragons sometimes cause a little trouble, but they are together with Tara and the other humans in one respect - they are all afraid of the demons who live on Limbo. Read more
This little baby dragon has just learned how to fly for the first time, and in the latest of our tara duncan games, we need you to help get this dragon ready for the adventures ahead of it. You can style the dragon however you want, and even add some accessories like a saddle or a magic wand! Have fun playing all of our new tara duncan games on mygames4girls.com.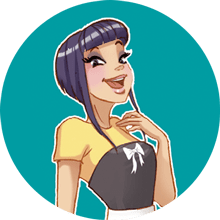 Tara Duncan Dragons is one of my favorites! We clearly have awesome taste! Come and play more of my fave free games!