How to play the game "Pampering Pedicure Game"?
Sigh, summer is almost over. The cold nights are setting in and we have to wait a whole year before we go on holiday. Wait, what's this? Anna is going away for a last minute holiday! Wow, we are so jealous! Anna has been working hard in a local cafe the summer to save up for a holiday, and now it's finally her turn! She will be jetting off to spend a week in the sun, and she can't wait! There's a little problem though in this girls' make up game. As Anna has been working so hard and running around on her feet all day, her toes and nails need a little TLC before she can wear her beach sandals! Read more
So, it's time to get to work on Anna's worn out feet. In this free girls' game, you can not only paint Anna's toenails, but you can choose from lots of different toe rings and decorate Anna's feet with beautiful henna tattoos. Her feet are going to be the envy of the whole beach! Once her feet look pretty, you need to pick the beach footwear. There are so many different sandals for girls out there, so make sure you pick a pair that will really make Anna stand out from the crowd. Remember, bright colors look great against a tan and pretty nails!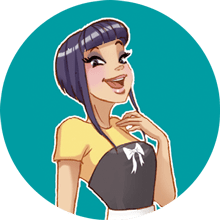 Pampering Pedicure is one of my favorites! We clearly have awesome taste! Come and play more of my fave manicure games!