How to play the game "Race For Romance Game"?
This is one of our most wonderful love games because you'll have to go as quickly as possible to make the most boys as possible fall in love with you! Each time you see a boy in this love game, you have to click on him until he falls to the ground and then comes back to you (just like real life...). If another girl chooses the same boy as you, then you must click quickly to win that boy instead of the other girl winning him! Read more
Be careful not to meet the teacher in the corridors of the school because she will make you lose a life (and several boys)! To avoid this, try moving around on all the floors. Be the star of your own school with the most boyfriends trailing after you!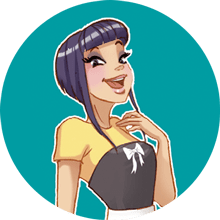 Race For Romance is one of my favorites! We clearly have awesome taste! Come and play more of my fave free games!