How to play the game "Nicki Minaj Magazine Cover Game"?
Here's another online Nicki Minaj game for all you fans of the coolest girl in rap! In this Nicki Minaj dress up game, the singer is getting ready for a photo shoot with an upmarket fashion magazine based in Hong Kong. As well as her catchy rap tunes, Nicki Minaj is known for her over-the-top costumes and her bizarre sense of style. This rapper girl loves fashion and has described her look as "Harajuku Barbie": weird, wacky, but still very pink and girly. The photographer wants her to look more gorgeous than ever for his magazine cover, so he needs a really crazy outfit, an amazing hair style and lots of bright and brilliant makeup. Unfortunately, his style team just aren't living up to his expectations today... so why don't you step and save the day in this celebrity makeover game?! Read more
You'll have tons of fun dressing up Nicki Minaj for her photo shoot in this free star makeover game! First, give her a makeover with eyeshadow, mascara, lipstick and tons of other beauty products. Next, dress up Nicki Minaj in brightly colored tops and pants, patterned catsuits, glamorous accessories and tons of accessories. Nicki Minaj loves to experiment with fashion, so have fun helping her find a unique new look for the photo shoot in this girls' game - both she and the photographer will be really grateful for your advice! You can even see her posing on the front of the magazine when you're finished! Star games like this one give you the chance to become a celebrity make up artist or star stylist, so keep browsing the girls' games on the site for more fun with your favorite singers and actresses!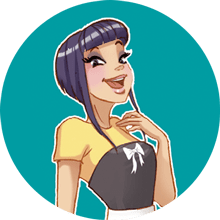 Nicki Minaj Magazine Cover is one of my favorites! We clearly have awesome taste! Come and play more of my fave makeover games!