How to play the game "LeetStreet Dress Up Game"?
What's your favorite band? The Jonas Brothers, One Direction? You probably know loads! In this girls game you'll meet a brand new supergroup - The LeetStreet Boys! As the images cross the screen, you'll play along with Matt, Justin, Rose and D-Dos the Dragon as they perform their most famous songs to their adoring fans. Read more
To complete this free music game you'll need quick and nimble fingers, just like a real guitarist! Watch the flowers as they fall down the screen - when they reach the arrows, press the corresponding key on your keyboard to play along with the LeetStreet Boys. Play alongside this famous band as many times as you like, and keep practising to hit the high scores! If you prefer girls games featuring solo singers or girlbands, you'll also be able to find great games on the site that will allow you to be a star - or maybe a star's personal stylist! You might even end up with incredible musical talents just like the LeetStreet Boys, thanks to all of these great girls games!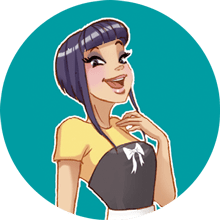 LeetStreet Dress Up is one of my favorites! We clearly have awesome taste! Come and play more of my fave music games!