How to play the game "Kiss me Game"?
If you like to have a good laugh, you will LOVE this game! It's all about speed and strategy and always, ALWAYS watching whats happening! Read more
This game is based in an office with a secretary who is in love with her colleague at work. Unfortunately, their boss is always watching them. Luckily for them though, the telephone keeps ringing, and every time it does, their boss has to go and answer it. Every time he turns away to answer the phone, that is their chance to have a kiss.
To get as many points as possible, click the mouse when the boss is not looking...and hold the mouse button down for as long as you can, until he puts the phone down again. Be really quick though becuase if he sees you...YOU'RE FIRED!!!
Get as many points as you can, and play the games as many times as you want! You'll laugh so much! Have fun! And remember to show your friends what a funny game you found!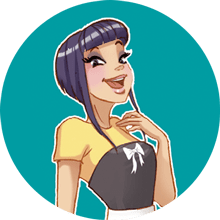 Kiss me is one of my favorites! We clearly have awesome taste! Come and play more of my fave kissing games!