How to play the game "Kimmidoll Game"?
We always try to keep you up-to-date with the latest trends and fashions in our girls' games, whether they be in food, fashion, makeup or toys! Todays' free girl game is all about Kimmidolls, those cute Japanese dolls collected by girls all over the world. Each Kimmidoll represents an emotion, a state of mind or a feeling. Come and create your very own Japanese doll in just a few clicks with this free girls' game! Read more
You have tons of choice thanks to all the options in this doll game, so why not recreate Ami (the doll that represents love), Benj (friendship), Chiaki (joy) or even the artistic girl Miho? Choose the eyes, haircut, mouth and accessories you like best to create your perfect Kimmidoll. Remember to leave us a comment to tell us about your doll once you've finished!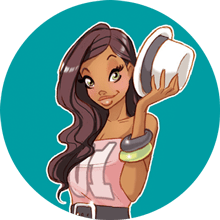 You're clearly loving Kimmidoll - you should check out my pick of the best doll games!