How to play the game "Hippie Dress Up Game"?
John F. Kennedy is president, Beatlemania is about to sweep the globe and every girl is wishing she were Marilyn Monroe... can you guess what year it is?! It's 1962! That's right, in this hippie dress up game Lea, Lilou and I have jumped in a time machine and traveled back to the Swinging Sixties! It was kinda trippy, because as soon as we arrived we met Lilou's aunt Janis, aged 17! She was a real hippie back in the day and she's going to show us how to dress up so we can fit in here in the 60s. Groovy! Read more
Take a look in Janis' wardrobe and check out how the hippies used to dress up in the sixties. Like all of our girls' games, there are tons of clothes for you to choose from here: you'll find flares, tie dye clothes, smiley faces, peace signs, and lots and lots of flower power in this dress up game! Maybe you'll get some ideas for your next costume party? Have fun checking out the 60s fashions with this hippie girl, and keep browsing the site for more groovy girls' games. Peace!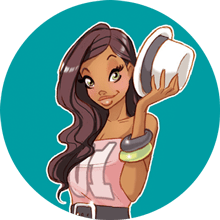 You're clearly loving Hippie Dress Up - you should check out my pick of the best dress up games!