How to play the game "Halloween Memory Game"?
October 31 is on its way, and this Halloween is going to be scarier than ever! The oldest witch in Salem has decided to throw a costume party in her haunted house on All Hallow's Eve for the girls and boys in town before they go trick or treating... but instead of sending an invitation, she's cast a spell turning them into cards and trapping them in this free memory game! Only a girl games pro like you will be able to break the curse and free them before Halloween. Read more
Black cats, vampires, witch's cauldrons, zombies, pumpkins, ghosts... all the trick or treaters and their Halloween accessories have been mixed up in this online card game. Sort the costumes, accessories and candy into pairs as fast as you can, because if the stopwatch arrives at 0 the boys and girls will be trapped in this free memory game forever! Have fun on the scariest night of the year, and don't forget to check out the other Halloween girls' games on the site - you'll find lots of tricks and treats!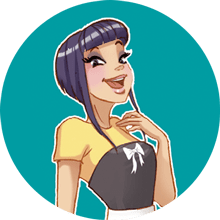 Halloween Memory Game is one of my favorites! We clearly have awesome taste! Come and play more of my fave free games!