How to play the game "Create The Boy of Your Dreams Game"?
Maybe you've already played the Eva Longoria Tiz Me game? Well this one is similar except that this time...you can create your very own DREAM BOY!!! Read more
Have you always imagined what you would love your boyfriend to look like one day? Is there someone on the TV or in a film that you think is the most beautiful boy in the world? Maybe it's Johnny Depp, or Leonardo Dicaprio or maybe Brad Pitt? Well in this game you can combine all the best bits of all the good looking men in the world, and make your very own dream boyfriend!
In this special game for girls you will go through lots of different stages - you'll need to choose skin colour, hair, eyes, clothes, smile... everything you can think of to create a boy exactly the way you want him to be!
(Isn't it a shame you can't do it in real life!!!) :D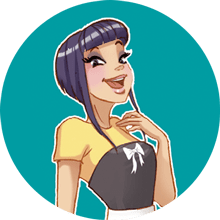 Create The Boy of Your Dreams is one of my favorites! We clearly have awesome taste! Come and play more of my fave make up games!