How to play the game "Cinderella's Haircut Game"?
Cinderella, you shall go to the ball...but not with hair like that! Eeek! There are some things that even Fairy Godmothers can't solve, and bad hair is one of them. Girls, Cinderella only has ten minutes before she needs to leave for the ball, otherwise she will never have time to dance with Prince Charming before the bell tolls midnight! She's going to need a real haircut... Read more
So, young hairdresser, you'll find lots of tools available at Cinderella's dressing table. Brush, blowdry, straighten, curl...even shave until you reach the result that you want! Make sure Cinderella is happy with the results though, she may not like it if you get the razor out! You can also dye her hair any color of the rainbow! In fact, why not dye it a bit of every color? Hmm, we're not sure Prince Charming is going to like this look. Let's hope he doesn't run off with one of her ugly sisters instead...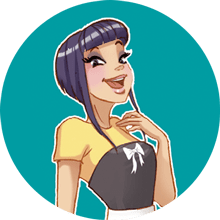 Cinderella's Haircut is one of my favorites! We clearly have awesome taste! Come and play more of my fave hair games!