How to play the game "CHRISTMAS Special - A Christmas Makeover Game"?
This is Lucie, and she is really excited because it is Christmas Eve and she knows she'll be getting a special visitor tonight - Santa Claus. She's never seen him of course, but she always makes a special effort and puts on a really nice christmassy outfit for him! Read more
In this game for girls you can help her get ready for this special night. You can choose her make-up and her accessories - and you can even change her hairstyle by clicking on her hair! There are lots of fun ways of making Lucie look really different. Maybe Santa won't even recognise her at first...but don't worry - he always makes sure that presents get to the right little girls, ever single year! After all, he has all his elves to help him!
Have fun giving Lucie a fabulous Christmas make-over ... and MERRY CHRISTMAS!!!!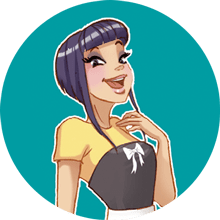 CHRISTMAS Special - A Christmas Makeover is one of my favorites! We clearly have awesome taste! Come and play more of my fave christmas games!