How to play the game "Kitty Beauty Salon Game"?
A professional feline hairdresser only ever tends to the finest kittens. Kitty is one of these kittens. She has the most gorgeous white fur, and she needs it to be properly washed with the finest products. Do you feel like becoming a cat hair dresser for the day? Well, you'll be working in a cat beauty salon actually. Are you up to the job? Read more
Check out all the cute soaps, shampoos and conditioners! Wash the fur well and then dry gently with a towel. Of course, you must brush it afterwards to keep her well groomed and beautiful. Add a spritz of perfume and then some cute accessories and clothes. Let your imagination go wild! Meee-ow!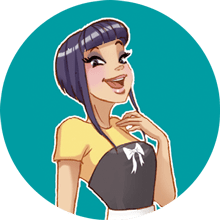 Kitty Beauty Salon is one of my favorites! We clearly have awesome taste! Come and play more of my fave cat games!