How to play the game "A Hollywood Kiss Game"?
Talk about breaking the fourth wall...there's something seriously weird going on in this cinema! The film being shown is a super cute romantic comedy. It's obvious that the two main characters are going to become a couple in the end, they're just meant to be! However, there are a few things getting in the way of this movie star couple having their happy ending. Uh oh! All they need to do to finish the movie is share a romantic kiss, can you help them in this free kissing game? Read more
Check out the cinema audience...all seems nice and calm right? Wrong! There's actually a lot of distractions out there that are stopping this couple from having a smooch! First of all, a baby keep crying. Then, there's the businessman who clearly should have stayed in the office because he can't stop chatting on his phone. Finally, there's another couple who are too busy kissing each other to even notice that the movie actors have come to life! Click the couple on the screen to make the couple kiss, but only when they're sure to not get interrupted. This is a very challenging kissing game girls! Now pucker up...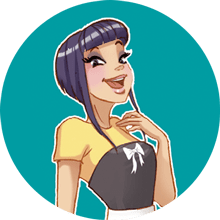 A Hollywood Kiss is one of my favorites! We clearly have awesome taste! Come and play more of my fave kissing games!