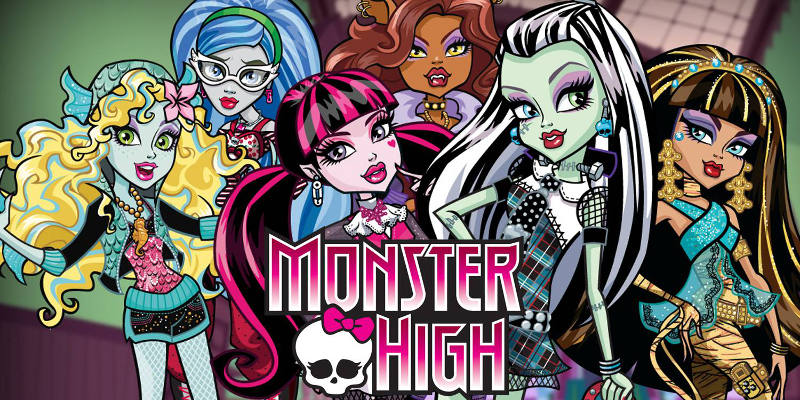 EXCITING NEWS ALERT: The Monster High dolls are going to be bursting onto our screens for a scream-tastic movie in 2016! But it's no more plastic fantastic - the movie will be live action, so Draculaura, Ghoulia Yelps and the gang will be starting this Scaremester in human form!
Following the crazy success of the freakiest fashion dolls and their books, webseries and everything else, it was about time they started thinking about movies! All we know so far is that the plot will follow the Monster High students discovering their true identities and attempting to keep the scarier parts of themselves hidden... Hmm!
The live-action Monster High spook-tacular is also going to be produced by Josh Schwartz, Stephanie Savage, Craig Zafan and Neil Meron (the brains behind Gossip Girl, the OC and Footloose!).
And as it's a musical, there's going to be Monster High songs! We can't wait to see Headmistress Bloodgood dancing to Michael Jackson's 'Thriller'...
The screenwriters include Marc Shaiman and Scott Wittman, who worked on Hairspray (AMAZING), and Alfred Gough who is a BIG DEAL and worked on everything from Spider-Man 2 to The Mummy to Hannah Montana: The Movie. Be excited. Be very excited.
Lilou, Lea and Lee's Predictions
But that's all we have now, so we've been busy speculating over everything that could happen in the movie. Most importantly,which of our fave stars will be cast? How will anyone play Skelita Calveras?!
We decided to make our own fantasy Monster High cast to drool over...
Draculaura: Miranda Cosgrove
This pampered fearleader needs a big name. And just look at those bangs!

Cleo de Nile: Rowan Blanchard
We want to see lovely Rowan play spoilt, student-body Queen Cleo!

Frankie Stein: Dove Cameron
Dove Cameron just looks so innocent and adorable. Perfect for sweet little Frankie!

Deuce Gorgon: Justin Bieber
J Biebs definitely loves sculpture and has a secret passion for cooking, right?

Clawd Wolf: Nick Merico
Handsome, sportypants Claw Wolf + Every Witch Way star Nick Merico's jawline = best idea we've ever had.

Venus McFlytrap: Ariana Grande
Okay, we just want to see Ariana dye her hair all colorful again...

Jackson Jekyll: Ross Lynch
This geeky human is perfect for Ross Lynch! Plus we want to see Ross with a two-tone bleached hairdo!

What do you think of our predictions? Can you think of better suggestions? Let us know what you think in the comments!