How to play the game "Your Pet Unicorn Game"?
Can you imagine your friends' faces if you turned up to school riding your very own pet unicorn?! As you probably know, unicorns are mythical creatures much like horses, only they have a long horn growing between their ears. In this girls' game you'll get to take care of your very own unicorn by feeding it, washing it and giving it lots of love and attention. If you're an animal lover who loves caring for pets, you'll love this girls' game! Read more
Start by feeding two beautiful unicorns carrots and apples and giving them a refreshing drink of water. You'll get 20 points for every snack they finish, and you need to earn 200 to level up - so play fast! There are lots of fun activities in this unicorn game for girls, so work hard to make sure your pets stay happy and healthy. Want to play with more pets and animals? Just keep browsing the fun girls' games at MyGames4Girls.com!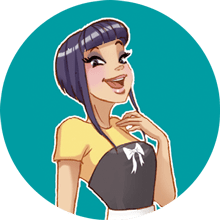 Your Pet Unicorn is one of my favorites! We clearly have awesome taste! Come and play more of my fave pet games!