How to play the game "The Perfect Hairstyle Game"?
Meet Dina in this free hair game, a young girl who keeps getting mistaken for a certain celebrity... Dora! She is as playful and bouncy as Dora, as over the years, she has totally modelled her style on Dora! Dina is after a new look. She wants to be more unique! She is bored of having the same old look, so she needs you to give her a great restyle, yes you guessed it... a total makeover! Read more
So, Dina is in your salon. Let's get started! You have her hair at your fingertips and she's told you to do what you think is best. This is every stylist's dream! Shampoo her hair, then condition, apply a mask and rinse. Next you can start brushing and cutting. Then, apply make up to this pretty girl and dress her from head to toe. This is a complete makeover!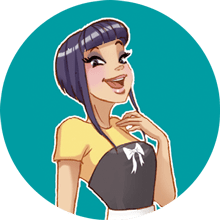 The Perfect Hairstyle is one of my favorites! We clearly have awesome taste! Come and play more of my fave hair games!