How to play the game "Slumber Party Game"?
There's no better way to spend a Friday night than chilling out at a slumber party with your best friends! Doing each other's hair, playing around with makeup or nail polish, nibbling on midnight snacks, gossiping about boys... slumber parties are the ultimate girls' night in! In this girls' game, you'll be spending the night at a girls-only sleepover at your friend's house. You can have fun painting your friends' nails, giving them facials and even waxing their legs just like in a real beauty salon. Don't panic, it doesn't hurt in girls' games! Read more
You might not have come across these activities in other girls' games, but the girls will give you instructions. If you have fun relaxing and pampering your friends at this glamorous slumber party, why not get more beautician practise with our other beauty games and makeover games? Maybe you and your friends could play them at your next slumber party! There are loads of fun games for girls right here, so enjoy - just don't stay up too late!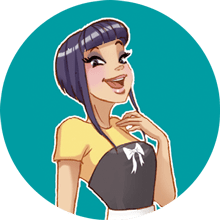 Slumber Party Game is one of my favorites! We clearly have awesome taste! Come and play more of my fave beauty games!