How to play the game "Princess In Distress Makeover Game"?
Do you believe in fairytale princesses? You should, because there's one right here in this free make up game! Princess Aurora is straight out of a fantasy story. But, a wicked spell was cast upon the kingdom by an evil witch, and now Aurora and her people have been forced to live in the human world! They are scared, and don't know how to live in the modern world. In this princess make up game, you must help the princess and her people get back to their fairytale kingdom. Can you help? Read more
The only way for Aurora to get home is for her to be the most beautiful princess in the world. She is of course, already gorgeous, but she's been looking so distant and sad since being banished from her kingdom, so she needs a makeover! You've got a lot of experience in girls' make up games, so use your expertise to beautify Aurora. You must remember to style her hair and make up, and of course, choose a glittering princess dress. This is such an honor, we wonder if Aurora will take you back to her magical kingdom too after she's had her magical makeover!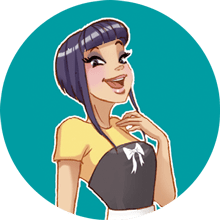 Princess In Distress Makeover is one of my favorites! We clearly have awesome taste! Come and play more of my fave make up games!