How to play the game "Pilot Acrobat Game"?
Have you girls ever dreamt of being a pilot and flying up above the clouds? Jenna is not only a pilot, she's also an acrobat who does amazing tricks in the sky! As you'll see in this game, she can fly through hoops, do the loop-the-loops and soar like a bird in her little stunt plane. She's a pretty amazing girl! In this game, you'll get the chance to fly with Jenna and wow the crowds back on the ground. Adventures games like this one can be a bit tricky, so do the tutorial before you take off! Read more
To play this girls' game, just use the arrows on your keyboard to direct the room through the hoops or over obstacles. Don't bump into anything or Jenna will crash and it'll be game over for her!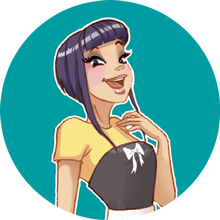 Pilot Acrobat is one of my favorites! We clearly have awesome taste! Come and play more of my fave free games!