How to play the game "Peasant Makeover Game"?
Poor Ameline, she has always lived the life of a humble servant girl in the medieval castle of a wealthy master, but in this festive game for girls, her luck is about to change! Charles, the son and heir of the castle's master, has invited Ameline to a family meal to celebrate the holiday season. You must take Ameline from rags to riches in this free beauty girls' game! Read more
The family of the castle will look so elegant for their festive meal, so Ameline must look radiant in order to fit in! Thanks to all the make up and clothes that Charles secretly placed in her wardrobe, the beautiful Ameline is going to get a full makeover! Use the skills you've developed in our other fabulous girls' games to make this poor peasant girl look like a beautiful princess. Don't forget to check out more make up girls' games on the site if you enjoyed beautifying Ameline!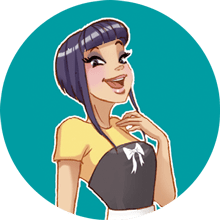 Peasant Makeover is one of my favorites! We clearly have awesome taste! Come and play more of my fave make up games!