How to play the game "Making Over Anilynn Game"?
Anilynn always takes a really long time to prepare when she is planning to go our with her friends. And that is why in this makeover game for girls she needs to use your professional talents for a complete makeover to try to make a totally new girl our of her in this girls makeover game. In front of her mirror you will be able to change her style of clothes, her hair, the color of her eyes and her hair colour, or of course all off her makeup too. Read more
To do this, just use the arrows on the right side of this fun makeover game for girls to scroll through all the options of this free girls makeover game. You can choose between several foundations, cosmetics to eye shadows, eyebrow pencils, lipsticks, and also a full range of accessories such as earrings or necklaces. Help her to find a new style to impress her friends with this free makeover game for girls!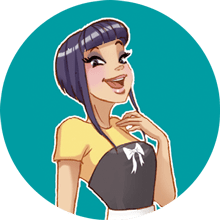 Making Over Anilynn is one of my favorites! We clearly have awesome taste! Come and play more of my fave makeover games!