How to play the game "Makeover girl game"?
Are you a style icon? If so, come and help Sarah in this fun girls' dress up game! Sarah has a party to go to tonight, and she just can't decide what to wear. She's got a wardrobe full of clothes, but no ideas! This style makeover game lets you play around with all of Sarah's shoes, clothes, accessories, make up and more to put together the perfect outfit. She wants something casual but stylish, brightly colored but not too shocking either. Think you're up to the challenge? Read more
Dressing well isn't easy! With so many colors and styles to choose from, it's sometimes hard to find a good combination and create the right look. Cool dress up games like this one let you experiment with clothes, hair and make up, just like a real stylist or beautician. They're an easy and fun way to pick up fashion tips that you can use in real life, too. Have fun - Sarah will really appreciate your help!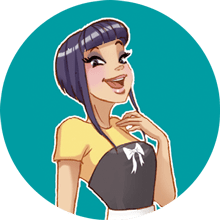 Makeover girl game is one of my favorites! We clearly have awesome taste! Come and play more of my fave dress up games!