How to play the game "Greedy Worm Game "?
Penny is a bored little earthworm. She hangs out in her underground burrow day after day with lots of boring worms who crawl about collecting their food, it's the same thing every day in this free puzzle game! Penny thinks there is more to life! She loves to squirm around the tunnels in search of new and exciting adventures in this free girls' game. However, she's feeling frustrated, because there is nothing new to do lately. How do you think she will worm out of this one..? Read more
In this girls' animal game, Penny has ventured out onto the surface, what a brave little worm! She is looking around at all the fascinating things the world has to offer, the thing that excites her the most is all the fresh food! Penny is a greedy worm and has decided to try and eat as much fresh food as she can so she will grow strong and impress the other worms. It's not that easy though, the outside world is fill of rocks and big bumpy tree trunks...Penny needs your help to avoid them! Can you help this adorable worm in this fun girls' animal game?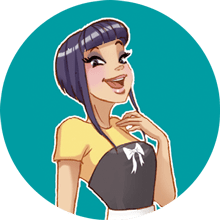 Greedy Worm Game is one of my favorites! We clearly have awesome taste! Come and play more of my fave animal games!