How to play the game "Geek to Chic Makeover Game"?
Rebecca is a really smart girl, but when it comes to fashion and makeup she's a complete dunce. She might have the best grades in her class, but she's sick of being the biggest nerd in school! Prom is coming up soon, and she wants to stun the boys and girls in her class with a gorgeous new look. Nothing a girls' games expert like you can't handle, right? Transform her from geek to chic with this before and after makeover game! Read more
Start this free make up game by giving Rebecca a facial that will get rid of those nasty spots and blackheads. Next you need to do her makeup: eyeshadow, eyeliner, mascara, lipstick, blusher, even colored eye contacts. Choose a hairstyle and a gorgeous prom dress, and then she'll be good to go! Bet all the other girls' and boys' jaws will drop when they see the new look you've given her in this makeover game for girls! Have fun, and keep browsing the girls' games on the site for more ugly ducklings in need of a new look!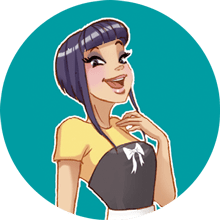 Geek to Chic Makeover is one of my favorites! We clearly have awesome taste! Come and play more of my fave make up games!