How to play the game "Fish Game"?
This girls' game will take you down to the very depths of the ocean! Lucas is a cute little fish who lives with his mom and dad in a shell right at the bottom of the sea floor. Today he's swam a little too far away from home, and has found himself in dangerous waters... and now there's a scary shark trying to eat him! Can you help save Lucas in this girls' adventure game? Just use your mouse to direct him around the ocean, swimming as fast as he can to avoid his hungry enemy. The shark moves super fast, so you'll need to be on your guard if you want to save the little fish in this animal game for girls! Read more
This surprise game has several levels, and you'll need to help Lucas find the pearls floating around in the water if you want to move onto the next one. We know that with your help this poor little fish will get home safe and sound! If you love girls' games that feature sea creatures like Lucas, you've come to the right place: there are tons of fish, dolphins, sharks, whales in our free surprise games, plus loads of other animals and pets. Have fun, and happy swimming!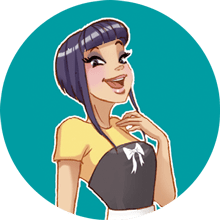 Fish Game is one of my favorites! We clearly have awesome taste! Come and play more of my fave free games!