How to play the game "Feeding Baby Elephants Game"?
Did you know that elephants eat very similar food to us? As you're about to discover in this free girls' game, elephants are very healthy animals. Whether they're in the zoo or in the rainforest, these creatures need a lot of vitamins, fibre and nutrients in order to grow strong and healthy. Elephants are herbivores, which means they eat only fruit and vegetables. You're going to learn a lot about elephants, as in this free animal game for girls you are volunteering to take care of some cute baby elephants! Read more
Your task in this animal game is to feed the baby elephants as they arrive for lunch. Just like humans babies, each and every baby elephant has different needs, so you need to pay attention to each and every one of them! Choose wisely between vegetable salads, fruit salads, bananas, grass and bamboo sticks. Be quick in this animal game though, as a lot of elephants come to eat in this corner of the jungle! What did you think of this free animal game for girls? Do you think you'd be able to care for real baby elephants?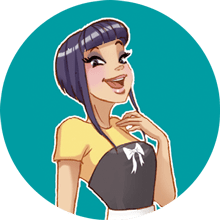 Feeding Baby Elephants is one of my favorites! We clearly have awesome taste! Come and play more of my fave animal games!