How to play the game "Fairy Decorating Game"?
Get ready to get creative, because in this free girl game you're going to be decorating a bedroom for two adorable little fairies girls. Their names are Ella and Pippa, and they are magical fairies who have always lived in gardens and forests. However, they've recently had to move to the city to look after their old fairy grandmother, and they really miss all the flowers of the forests… Let's help them feel at home by decorating their bedroom with dozens of pretty flowers! Read more
If you're the sort of girl who loves stories about pixies, elves and other magical creatures, you'll love this fairy decorating game for girls! You can decorate the room with colours, change the color of the walls and choose some nice lamps to light up the fairy bedroom in this decoration game, just like an interior designer. Hope you like this fairy game for girls, and keep looking through the girls' games on the site for more magical fun!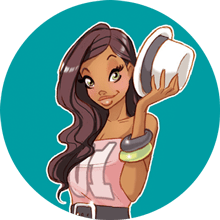 You're clearly loving Fairy Decorating Game - you should check out my pick of the best fairy games!