How to play the game "Eye Makeup Game "?
Your friend Lucy is going to a costume party tonights, and she wants an exciting new look that will catch all the other girls and boys' eyes! This girl has tons of style, but unfortunately she's not so hot when it comes to makeup. She's heard you're practically a professional make up artist after all those free makeover games and girls' games you've played, so come and lend her a hand. Read more
You'll find tons of awesome beauty, hair and makeup products for girls waiting for you in this makeover game: eyeshadow, mascara, glitter, eyeliner... Don't forget to let her try on a few accessories to finish off her new look! Leave a comment describing the cool style you've chosen for Lucy in this eye makeover game and impress the other girls with your make up skills.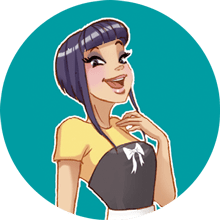 Eye Makeup Game is one of my favorites! We clearly have awesome taste! Come and play more of my fave beauty games!