How to play the game "Dressing for a Day in the Country Game"?
Stephanie's boyfriend is taking her for a walk in the country! Sounds like a great adventure right? The sound of birds, haystacks, wildflowers...this pretty girl loves nature and so can't wait to find a cute outfit for the occasion! A walk in the countryside is great, but not if you don't have suitable clothing! Your mission in this game is to make sure Stephanie is dressed appropriately. Challenge accepted! Read more
The first thing to do is apply some nice natural make up. Don't add too much of the stuff, we don't want her look to be confused with one of the scarecrows! Now, use your right mouse button to drag each tool on the face. Wow, what a beautiful, fresh complexion! Now, it's time to take care of the hair and clothes. Hmm, a floral dress should fit in with this theme perfectly! Girls, what is your best outfit for a day in the country?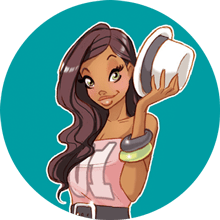 You're clearly loving Dressing for a Day in the Country - you should check out my pick of the best dress up games!