How to play the game "Getting Ready For A Cocktail Party Game"?
Dah-ling, it's almost time for the cocktail party, are you ready to go? Eek! Chloe is not ready at all. Her best friend is hosting a swanky cocktail party tonight. Chloe planned a whole afternoon of getting ready. The first step was taking a long bubble bath with her favourite beauty magazine, obviously, but she totally lost track of time! Now her friend is texting her asking where she is. Uh oh! Read more
In this girls' free make up game, you need to help Chloe get ready for the party as quickly as possible, but still look amazing! Come on, this is easy for a makeup game expert like you! She's not even planned her outfit yet, so a total makeover is in order. Choose Chloe's hair, make up and clothes, and don't forget her jewelry and a show-stopping hat! Make sure you put a cocktail in her hand too. There, her friend will never know she was late after such a speedy makeover!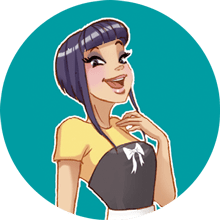 Getting Ready For A Cocktail Party is one of my favorites! We clearly have awesome taste! Come and play more of my fave makeover games!