Dress Up Snow White
Choose a beautiful outfit for the famous Disney Princess!
The game will be available in a few seconds...
You'll find all your favorite Disney princesses in our girls' games, and today it's Snow White's turn to shine! If you've seen the original Disney movie or the recent blockbuster 'Snow White and the Huntsman', you'll already know the story of this beautiful princess: after her father's death, young Snow White was kept captive by the evil Queen, who was insanely jealous of her beauty. Fortunately our young heroine escaped, and with the help of Seven Dwarves she soon managed to defeat the Queen and regain her Kingdom!
In this dress up game, Snow White is looking for a brand new look and she needs you to help her out. This poor girl is sorely lacking in fashion sense (not surprising after spending ten years locked in a dungeon!) and she has no idea how to dress for the ball tonight. Choose a beautiful dress for her in this Disney game for girls, and make sure this pretty princess is still the fairest of them all!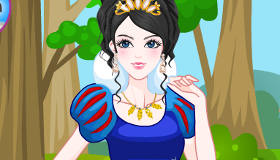 Dress Up Snow White
-
139
votes
Dress Up Snow White comments from girls: