How to play the game "Dress A Mermaid Game"?
You know, mermaids aren't that different from human girls. They may hang out with dolphins and be able to breathe underwater...but they still like to get dressed up! Naomi the mermaid is forever changing her look. In fact, she's always fishing for new style tips! Read more
In this dress up game, see if you can give Naomi a look that will really make her stand out from the crowd. You'll find lots of different tails to choose from...some of them even have glitter! Don't forget to check out her different bikini tops too. Remember, they don't always have to match the tail! Then, there's the hair. Do you know about the dip dye trend? This mermaid girl loves it, and wants to try it in every color. Make sure you tell us your favorite outfit combinations in the comments!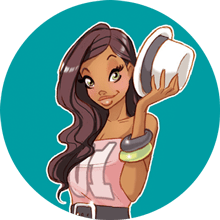 You're clearly loving Dress A Mermaid - you should check out my pick of the best mermaid games!