How to play the game "Deep Sea Creatures Game"?
Are you afraid of the water and the seabed? If so, this may not be the best game for you! You'll find octopus, squid and jellyfish at the bottom of the sea...eek! Don't worry though, they aren't dangerous! In this free shooting game for girls, you're going to need to think fast. The sea creatures are trapped in air bubbles on a path in the sea that the wicked octopus created to lure them into his cave...you need to save them! Read more
In this free girls' game, use your water gun to shoot out sea creatures of matching colours. You have to get at least three of the same color. Once you do this, you'll notice the bubbles burst and the line will go down...simple! This free shooting game is a little on the addictive side, but remember, the main reason you're here is to save these little sea creatures. Good luck!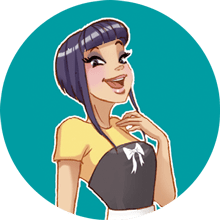 Deep Sea Creatures is one of my favorites! We clearly have awesome taste! Come and play more of my fave free games!