Cooking Hot Dogs
Sink your teeth into this tasty treat!
The game will be available in a few seconds...
Our girls' games always bring you the tastiest dishes around, so that you can have loads of fun trying out great new recipes and delicious treats! Today we're cooking and decorating hotdogs, one of the most popular snacks in the world. You've probably tried hot dogs at the movies or maybe at a fair before, so what do you think? Aren't they delicious? With this girl game you'll be able to decorate hot dogs any way you like, with all your favorite ingredients!
Start by choosing a nice plate, then bread, vegetables, a sausage, sauces... you'll find everything you need to make delicious hot dogs in this girls' game! You can even choose a nice drink to wash your hot dog down with. Have fun with this free cooking game, and make sure you check out the rest of the girls' games on the site if you're hungry for more fun!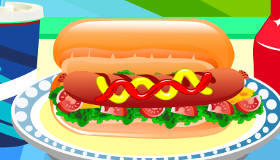 Cooking Hot Dogs
-
75
votes
Cooking Hot Dogs comments from girls: