How to play the game "Cute Flower Princess Game"?
In the land of Nature, princesses are not the same as the princesses in our world. In Nature, the princesses are magical and have jobs and duties where they can use their magical powers. In this princess dress up game for girls, let us introduce you to Artemis, the Flower Princess of Nature. Artemis usually wakes up early every morning to make sure that all the flowers in the kingdom are ok, and that all species are protected. That's quite a lot of responsibility! Read more
Today the Prince of Trees, who lives in a nearby kingdom will come to a reception to discuss matters related to trees and flowers in the magical Forest, so Artemis must look absolutely radiant. Can you help her choose a lovely dress and flowers for her hair in this beautiful dress up game for girls? It's so nice to mix flowers and fashion sometimes! Choose a look that is elegant and makes her stand out, but still expresses her love for flowers. Don't forget to pick a bouquet of flowers and a basket to give to the prince on his arrival in this princess game for girls!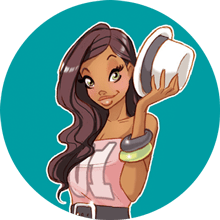 You're clearly loving Cute Flower Princess - you should check out my pick of the best princess games!