How to play the game "Cute Cat Date Game"?
Do you ever wonder what all the neighborhood cats get to when you're not around? Have you noticed how they can sometimes go strolling for hours? Well, cats have friends too, and cats also like to go on dates! If you don't believe us, join us in this free animal game for girls. Allow us to introduce you to Katrina and Karl. They have lived next door to each other for a long time now, but Karl has only just worked up the courage to ask Katrina out on a date, after being in love with her for years. Aww! In this free cat game, we need to help this feline couple get ready. Read more
Katrina and Karl have never been on a date with any other cats before, so they're super nervous and don't really know what to expect! Help them relax by choosing some lovely clothes and accessories to dress up in, in this girls' animal game. Karl is a very neat kitty, so choose a really smart look for him. Katrina is the most elegant cat in the neighborhood, so she's going to need a very elegant look. Cats love fashion too you know! Do you think all animals fall in love and go on dates? You'll find lots of other romantic animal couples in our free girls' games. What are you waiting for?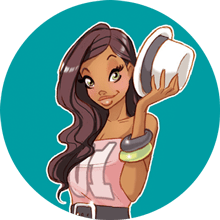 You're clearly loving Cute Cat Date - you should check out my pick of the best animal games!