How to play the game "Clean the Jungle Animals Game"?
In the Savannah, they're preparing for Christmas! Well, whoever said that zebras, lions, elephants and hippos could not enjoy the festivities as much as everyone else! The inseparable friends; Ella, Zuzu, Mimi and Poco decided to celebrate together this year. The tree has been decorated, lists have been sent to Santa and the Christmas feast is ready, but there is one small problem...the animals have not washed yet! Read more
We think Ella should go first, don't you? This little hippo likes to play in the mud a little too much! Start with shampoo, then brush out her hair and cut her nails. She is a lady like any other after all, and animals need to take care of their skin too! Next, you need to find some cool party accessories for this cute animal. We think a Santa hat is perfect for the occasion! Merry Christmas jungle animals!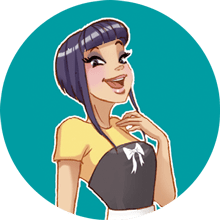 Clean the Jungle Animals is one of my favorites! We clearly have awesome taste! Come and play more of my fave animal games!