How to play the game "Classic Pacman Game"?
Do you remember Pacman? The hungry yellow circle who greedily rushes through his maze to get to the fruit, despite pesky ghosts getting in his way? The Mygames4girls crew; Lea, Lilou and Lee have never played this classic arcade game, so they're in for a treat! In this free game for girls, we're going back to a 1980s' games arcade to show them how it's done! Are you ready for a retro challenge? Read more
This girls' game, just like Tetris, is seriously oldskool, so you need to be a pro girl gamer to get a high score. Eat up all the points in the level and keep out of the way of the colorful ghosts! Remember, if the ghosts turn blue, you can eat them up as well! Pacman is one of the original video games, we just know that you, Lea, Leelou and Lee are going to enjoy it. We love the 80s!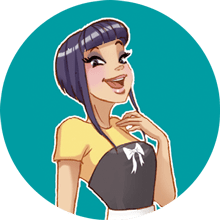 Classic Pacman is one of my favorites! We clearly have awesome taste! Come and play more of my fave free games!