How to play the game "Caring for a Real Baby Game"?
There's a new addition to the royal family! Little baby Maria Teresa is so adorable! Like any baby though, she needs lots of love and attention. Her older sister, Princess Victoria is not so pleased about the new arrival though. She is supposed to be attending a very important event tonight, but instead she has to stay in and look after the baby! Read more
Remember, Victoria is a princess, so she is a little spoilt! Instead of giving her new sibling the care she needs, she has decided to sulk and speak to her friends on the phone. Poor Maria! This neglected baby is going to need your babysitting expertise. Do you know how to look after a real baby? See which objects she asks for and then click on them to give them to her. You'll also have to change her diaper, dress her and take her for a walk in the palace gardens! Girls, do you have any younger brothers or sisters?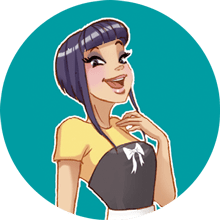 Caring for a Real Baby is one of my favorites! We clearly have awesome taste! Come and play more of my fave free games!