How to play the game "Build a Mermaid Game"?
Coralina is a very beautiful and cheerful mermaid who lives in a coral reef in this make up game. This little mermaid spends her days singing, fixing her hair and doing crafts with pieces of coral, but it's the same thing every day and she's beginning to get a little bored with her life in the ocean. Poor Coralina! All the sirens in the area spend their days the same way, singing beautiful songs in the hope that someone will hear them. In this makeup game for girls, you get to share an exciting experience with Coralina...some handsome sailors are about to sail past! Read more
Coralina has spent her entire life hearing songs about sailors and pirates, but has never actually seen a human up close. She is nervous about their arrival in this fun makeup game, can you help make her look as pretty as possible by giving her a makeover? Choose a crown, a beautiful tail, and a gorgeous hairstyle. You can completely change Coralina's face too. When you've finished her face and hair, explore Coralina's collection of delicate ocean jewelry in this make up and dress up game...it's pearls galore! Wouldn't you just love to be a mermaid living under the sea?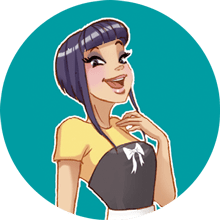 Build a Mermaid is one of my favorites! We clearly have awesome taste! Come and play more of my fave makeover games!