How to play the game "Bracelet Decorating Game"?
Wouldn't it be great if you could design your own clothes and jewelry? You could wear whatever you wanted that way! Unfortunately, making your own jewelry costs money and time… but not in these girls' games! This decorating game lets you create bracelets in just a few clicks, so you'll have time to create something really pretty, even if you're a very busy girl. You'll be able to customize your jewelry any way you like with the help of Lisa, who'll be waiting to model your fantastic creations! Read more
What type of bracelet do you like to wear? Thin and fine, big and chunky, wooded, golden, silver, plastic, decorated with good luck charms? In this accessories decoration game, you'll be able to design a bracelet that really suits you and your style. Choose one of the shapes available (twisted, rectangular, round, etc) then personalize your bracelet so it'll look great once it's around Lisa's wrist! Thanks to this fashion game for girls, you can add pearls, sequins or lots of different gems and details in different colors to make your bracelet unique. Bet your friends would be jealous if they saw you wearing such a gorgeous bracelet! Why not try out some other girls' games after this one? Get your creative juices flowing and who knows, maybe once day you'll design jewelry and accessories for the stars! Have fun!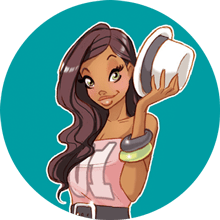 You're clearly loving Bracelet Decorating - you should check out my pick of the best decoration games!